About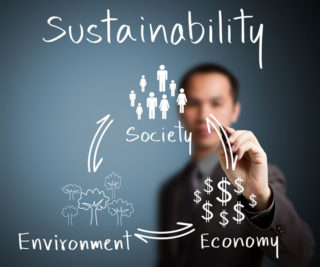 Industrial ecology with its circular economy focus and systems perspectives, together with its strategic value for technology development and good governance and policy, ensures that the industrial systems of today provide for sustainable and environmentally acceptable industrial systems of the future.
Modern sustainability management is a multi-faceted challenge for managers and professionals that stretches across many domains. The sustainability management research and teaching at the Sustainable Engineering Group (SEG) at Curtin involves an industrial ecology approach to focus on understanding sustainability issues and how best to manage them.
Our teaching
From a teaching perspective, the MSc (Sustainability Management) course at SEG involves an industrial ecology focus on the systems dynamics of sustainability issues.  The MSc looks at how the industrial world relates to production using sustainability assessment tools and governance and stewardship programs to enhance resource efficiency, reduce environmental impact and maximise productivity.
Our research
Our perspective on sustainable engineering research is through the use of industrial ecology in the design and manufacture of goods and services with due consideration for renewable energy, scarce materials, resource efficiency and waste recovery.  Sustainable design is focussed on utilising less energy, reducing emissions and increasing asset longevity. It involves working across multi-disciplinary research areas in order to meet the efficiency and resource challenges required to reduce the environmental impact and carbon footprint of our production decisions.
Find out more about the research conducted by the SEG
Why study with the Sustainable Engineering Group?
Our students come from a wide variety of fields (management, engineering, natural sciences) all with an interest in learning how to:
Analyse and assess sustainability issues
Develop tools for assessing sustainability performance (life cycle assessment, environmental management systems, triple bottom line reporting)
Understand the challenges of modern environmental accounting standards
Enhance company production through resource efficiency (eco-efficiency, cleaner production, industrial symbiosis)
Develop and evaluate a strategic plan for improving sustainability management outcomes within an organisation
Understand the value systems and stewardship programs driving progressive corporate cultures
Develop integrated corporate management systems to assist with governance structures and policy development.
Our current teaching and research includes a wide variety of sustainable engineering challenges including industrial production energy efficiency, mining industry waste management, sustainable infrastructure, agricultural  production carbon foot printing right through to sustainability management topics including modern corporate stewardship, language framing in waste management public policy and the use of data mining tools in sustainability planning.
Our students leave will develop a solid grounding in sustainability management and an understanding in the use of efficient and environmentally acceptable resource outcomes that ensure a sustainable future.