Research focus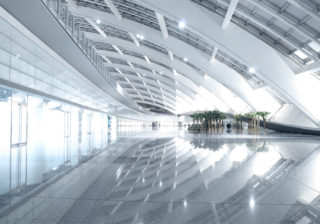 Sustainable design and construction in civil engineering
Our research focuses on improving sustainability aspects for civil structures including in green design, material efficiency, embodied energy and materials engineering. The major topics include:
Sustainable geomechanical construction materials
Application of GFRP in pile and sheet piles
Application of FRP in repair process for water and gas pipe lines
Evaluation of usage of recycled materials in civil engineering structures such as roads, soil improvement and concrete
Evaluation of application of composite materials (such as FRP) in structural components including beams and columns
Development of sustainable technology (such as the application of geo-grids) in civil construction
Refinement of design in civil engineering to improve sustainability performance
Evaluation of civil structural functionality under environmental hazards such as climate change (thermal loading), seawater rise, chemical/alkaline inundation and earthquakes
Thermal management for energy efficiency
Our research into thermal management systems for generation and efficient utilisation of energy focuses on:
Design of energy efficient high thermal load cooling systems
Innovative cooling systems that enable waste heat recovery for reuse
Combined heat and power, and tri-generation systems
Design of heat exchangers for power generation using geothermal, solar and waste heat
Waste heat recovery and carbon-neutral process technology
Our research focuses on the reduction of the overall process carbon footprint in production and manufacturing industries through the recovery and reuse of waste heat for heating/cooling and electricity generation, and carbon capture from combustion exhausts for other applications. The key areas of focus include:
Identification and design of waste heat recovery technologies for process industries
Integration of carbon neutral strategies into manufacturing processes
Electricity production from low grade thermal energy
Industrial symbiosis through regional exchange of waste (useful) heat all of which aid in economising energy consumption and environmental impact.
Sustainable processing and process technology
Our applied and fundamental research into filtration and air pollution control, engineering nanoparticulate materials, bio-processing of industrial wastes bio-fuel production, all assist in helping to engineering more sustainable process technologies for the future.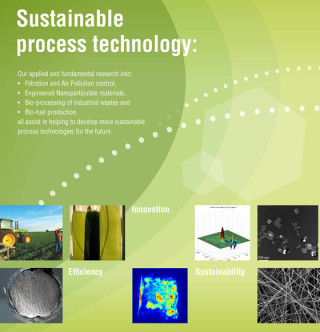 Industrial symbiosis
The community, environment, industry and economy benefit from our development of research projects to support local industry through regional synergy programs where environmental management and resource efficiencies are developed through the local industry exchange of unitilized b-products, waste water and waste heat. Such synergies improve both business profitability and long term sustainability.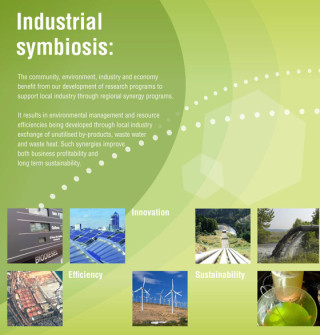 Waste management
Our research in the waste management industry focuses on alternative waste management technologies, extended producer responsibility programs and waste management focussed cleaner production and eco-efficiency practices. This research results in improved waste recycle and re-use strategies which are essential to improving business and industry resource efficiencies.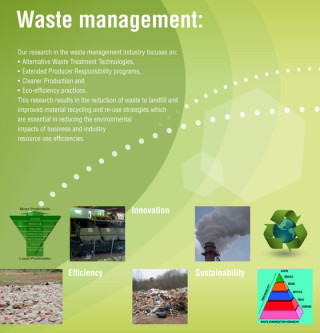 Sustainability metrics
Our research into measuring business performance in resource efficiency, water management, greenhouse gas production, waste and by-product utilisation and ecological footprint calculation enable the development of much needed sustainability decision support frameworks, metrics and indicators for business and industry reporting and sustainability indicator priority setting.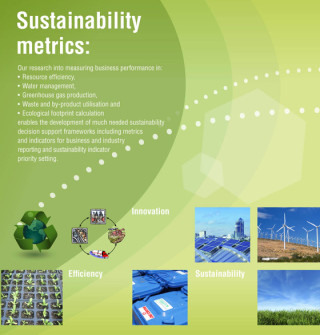 Life cycle assessment
Our research uses the whole of life cycle technique for assessing the environmental performance of a product, process or activity from cradle-to-grave. Life cycle assessment can result in more sustainability focused product design, resource use, waste minimisation, supply chain management and the development of competitive market advantage.